COMPUTER SCIENCE, INFORMATION TECHNOLOGY AND MCA LAB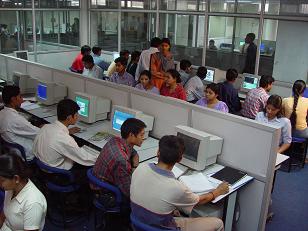 THE DEPT. OFFERS TO THE FRONT END TECH. IN THE FIELD OF C.S & I.T. THROUGH AN ELABORATE SETUP OF LABS CONSISTING OF THE FOLLOWING:
1. COMPUTER ORGANISATION, GRAPHICAL AND NUMERICAL TECHNIQUES LAB.
2.WEB TECH.& SOFTWARE ENGG. LAB
3. MICROROCESSOR,HARDWARE, I.T.,COMPILER CONSTRUCTION LAB.

THE LABS ARE EQUIPPED WITH PIV/PII/CELERON PC , SIX POWERFUL SERVERS NETWORKED IN THREE DIFFERENT ENVIRONMENTS LIKE LINUX , WINDOWS NT & NOVEL NETWARE . STUDENTS ALSO GET ACCESS TO CYBER WORLD OF INFORMATION THROUGH INTERNET TO KEEP PACE WITH THE LATEST DEVELOPMENTS IN THEIR RESPECTIVE FIELDS.
PREMISES | LIBRARY |LABS | FACULTY | BEYOND ACADEMICS | SEMINARS
APPLIED SC. LAB| MECHANICAL LAB| ELECTRONICS LAB| ELECTRICAL LAB| COMPUTER LAB